Often times, inspiration for creating cocktails can come from unusual places. Like, a few weeks ago, during a 19 day SNL Marathon on VH1 Classic, when I was able to catch a glimpse of "Mr. Mike's Least Loved Bedtime Tales: The Soiled Kimono." The sketch itself is everything we love about strange, vintage SNL, and stars Michael O'Donoghue as a misanthropic bartender, as well as Laraine Newman as a bar patron asked to sing in lieu of payment. But that's not what we're here today to talk about. We're here to talk about the drink itself, the Soiled Kimono.
During the sketch itself, a recipe is given for the drink, along with a ridiculous backstory, which I'm including here.  This backstory itself is a perfect parody of cocktail culture and lore, and is one of the main reasons I fell in love with this cocktail.
"THE STORY OF
THE DRINK
A Japanese aviator was
angry with an unfaithful
Geisha girl.
"Take this!" he said,
flinging 2/3rds of a glass
of costly French champagne
in her face.
"And this!" he said,
flinging 1/3rd of a glass
of Japanese plum wine
in her face.
"And this!" he said,
flinging a paper butterfly
in her face.
"Why this tastes delicious!"
she exclaimed, kissed him,
and then hit him
in the lungs
with a gardening tool.
The end."
When it came time to create our own Soiled Kimono, we decided to stray from the recipe a bit.  Essentially, we created a variation on a French 75 with Greenhook Ginsmiths Plum Gin Liqueur, a wonderful fruit-forward gin out of NYC, created by some people doing some really great things.  We opted against folding our own paper butterflies to place on top of the drink (albeit not for lack of trying), and ended up using an intricate lemon twist instead.
Overall, we're really happy with how the Soiled Kimono ended up turning out, and it's currently available on our brunch menu (Saturdays and Sundays), and during standard Elixir Bar hours (
Tuesday
–
Saturday
evenings).  This cocktail just goes to show that you don't have to re-invent the wheel to do a great cocktail, you just have to keep your eyes open.  Inspiration can come from anywhere, as long as you're paying attention.
Soiled Kimono
FLUTE – LEMON TWIST – SHAKE
1.0 oz Greenhook Plum Gin
0.5 oz Simple Syrup
0.5 oz Lemon Juice
top with inexpensive French Champagne
Shake gin, simple syrup, and lemon juice in a shaker with house ice and double strain into a champagne flute.  Top with bubbles. Garnish with a paper butterfly, or a lemon wheel.  Whichever is easier.
Last week, when we knew we wanted to stack our house cocktail list with Game of Thrones cocktails, we all decided to draw cocktail names out of a hat and design a cocktail around the name.  So we threw a few GoT-related nouns and phrases into a hat, and we went around the restaurant distributing cocktail names.
Fair warning, guys.  It's about to get nerdy in here.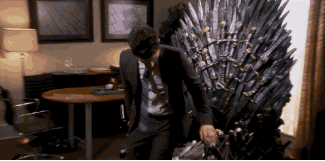 Concept drinks are no stranger to the Elixir Bar. When we first started playing around with what the Elixir Bar would be and the cocktails we would have on it, we were mostly exploring flavors, ingredients, and drink styles as the central weekly theme. But as time passed, we received the most positive feedback when we strayed from this for concepts like adapted fictional cocktails, cocktails based on our favorite albums of the nineties, and cocktails based on Quentin Tarantino movies. So naturally, since GoT is premiering next Sunday, we all got pretty excited.  When it came time to draw names out of a hat, I picked two names,  "The Mad King" and "Whitewalker".  For this entry, we'll be focusing on The Mad King.
The first thing I did was refresh my memory, reading up all I could on who the Mad King was, how he died, why he was so crazy, etc.  Reading through GoT wiki entries on Aerys II Targaryen (a.k.a. The Mad King), I was reminded that it was the drinking of wildfire, the bright green fantasy equivalent of napalm in R.R. Martin's universe, that drove him so mad.  He eventually became so obsessed with fire that he thought it would turn himself into a dragon, and he made plans to burn down King's Landing with wildfire hidden all over the city. I already had enough information to start making the cocktail. We knew the cocktail had to be green, we knew we had to involve fire, and since the cocktail was designed for a king, we wanted the cocktail to feature Commonwealth Gin and be up in a coupe. The rest was just a combining of flavors working together. For the absinthe, we used St. George's Absinthe Vert, as it was brandy-based and fully capable of lighting on fire. To make the whole drink green we used Midori as a sweetener, and added a pinch of salt to mimic the flavor of salted melon. To garnish, a small sprig of mint floating on top for aromatics. If you'd like to taste this cocktail, it will be in the Elixir Bar all week. And if you can't make it in, here's the recipe:
The Mad King – Parker Girard
COUPE – SHAKE – FIRE – MINT SPRIG
1.5 oz Commonwealth Gin
1.0 oz Lemon Juice
0.75 oz Midori
0.25 St George's Absinthe
Pinch salt
Mint sprig
Pour absinthe in coupe and set aside.  In a shaker, combine gin, Midori, juice and salt and shake with house ice.  Once mixed, set absinthe on fire in coupe, wait five seconds, and pour contents of shaker into the coupe to extinguish the flame.  Garnish with a small mint sprig.